Whew!  I did the 2nd Annual big Read Writers' Conference last weekend up in Surprise, AZ, and it was quite fun.  But it's a heck of a schlepp, even if Surprise and my home town of Tempe are both technically part of the Phoenix metropolitan area.  Just for your information,the Phoenix metropolitan area is WAY big, area-wise.  I set the odometer before we left and it had 104 miles on it when we got home.  On top of the distance, it was raining cats and dogs all the way up and back.  This may not sound like a big deal to you, Dear Reader, but this is southern Arizona for Pete's sake.   Visibility on the highway was quite poor and I'm not used to driving in the rain any more. Neither is anyone else around here so I didn't trust my fellow travelers to behave responsibly in the reduced driving conditions.  It took us nearly an hour and a half to get up there, in which time we could easily have driven to Tucson from our house. All in all I didn't enjoy the trip, even though we made it with no trouble despite my whining.
I like Surprise, though, a beautiful, new, clean and prosperous town, and the conference was great.  Here's what I wore: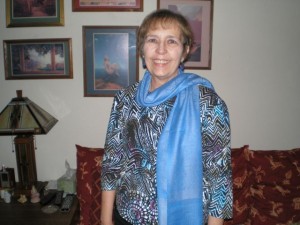 I include this picture because my sister sent me the pashmina for MLK day, and this was the first time I had  had the opportunity to wear it. I know one is supposed to wear one's scarves in that pull through loop these days, but I can't help but think you look like you have a broken neck when you do that.
Next exciting event!  Tomorrow, January 30, 2013, I'm doing a guest post for the wonderful Ladykillers blog.  I'm writing about my favorite movie twisted ending.  If you haven't seen this movie before, you will never guess how it ends.  Really.  Come by and tell me if you figured it out. Just click on the blue word Ladykillers.
Then, on February 7, I'm back at Type M 4 Murder!  I'll be a regular again, posting on the first Thursday of every month.  I gave it up for a while when Don was sick, but now that he's made his way back to health, I'm heading back to my lovely blog home.  Keep an eye out.