It's coming up soon.  This very weekend, March 9 and 10, I'm going to be, oh, so busy at the Tucson Festival of Books.  Do go if you are anywhere near Tucson, because this is quite an event.  Hundreds of authors of every ilk will be there to sign, talk, or teach.  I'm going to be doing some of each.  On Saturday the 9th at 1:00, I'll be Moderating the panel Other Cultures, Other Crimes with Hilary Davidson and Simon Wood.  I write a historical series, Hilary writes about a globe-trekking travel writer, and Simon does race car drivers, among other strange things, so this should be interesting.
Then on Sunday the 10th, at 1:00,I'm presenting a workshop on Writing Historical Mysteries. And if there is anything I know how to do, it's write a historical mystery. So if you're thinking about writing one yourself, come by for a few tips.  Later that very day, at 2:30,
I'll be a panelist on Cozy Crimes with Kate Mathis and Naomi Hirahara.  I'm also doing three book signings, so if you'd like to come by to get a book signed or just say hi, I'll be at the Poisoned Pen Bookstore booth on Saturday at 3:00, the Sisters in Crime booth Sunday at 10:00 a.m., and the Clues Unlimited booth Sunday at 11:00 a.m.  See who else will be there:  check out the list of authors at http://tucsonfestivalofbooks.org/.  You will be impressed.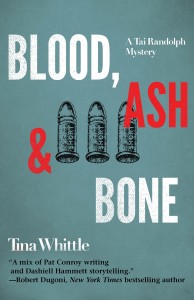 Need a good book to read? My fellow Poisoned Pen Press author Tina Whittle's latest, Blood, Ash, and Bone, the third in the Tai Randolph/Trey Seaver series, was just released a few days ago.  If you haven't discovered this series yet, I recommend you do.  Tai is a unique character. Here's what Blood, Ash and Bone is about:
When Tai Randolph 's ex-boyfriend shows up desperate for her help, she reluctantly takes the case. But as she unravels a 150-year-old mystery, she digs up secrets somebody wants to keep buried, forcing a confrontation not only with a killer, but with her own willingness to do whatever it takes to save everything that matters.
Tina also got a STARRED review in Booklist, which is not easy to do. "Whittle's snappy prose and nonstop action revolving around these fascinatingly flawed characters combine to make this series a must."
And last but not least, tonight I'm starting the Scottsdale, Arizona, Citizen's Police Academy, an eleven week course on police procedure put on twice a year by the Scottsdale Police Department.  I've been writing a historical series for nearly a decade, and just this year I started a new book with a contemporary setting.  It did not take me long to realize that police procedure is way different in 2013 than it was in 1913.  By mid-May, I should have a better idea what my detective should be doing.