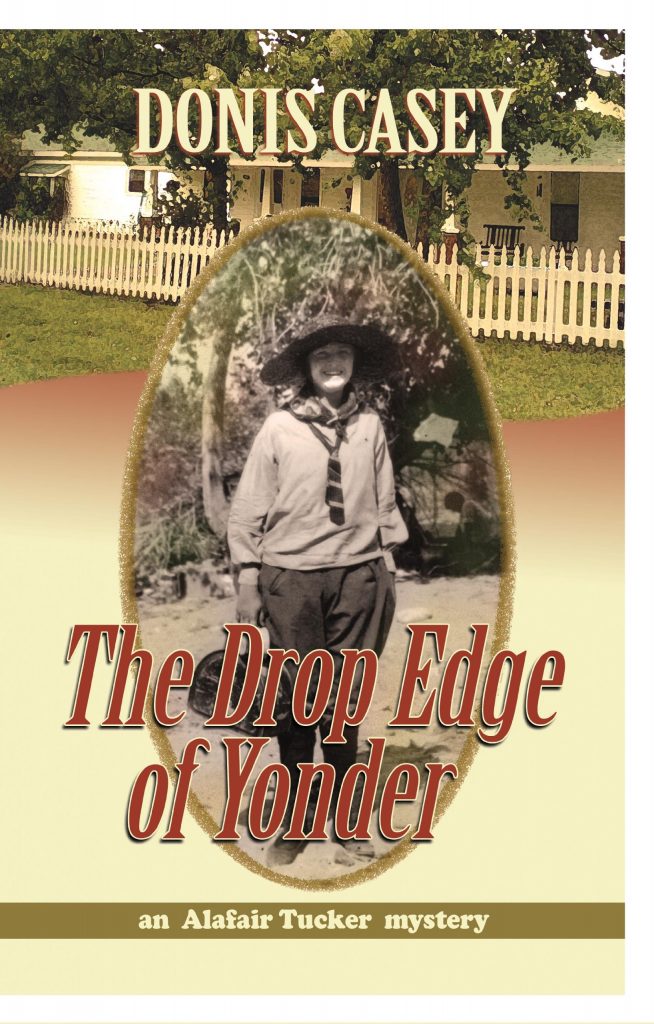 November 12
Congratulations to Ellen and Claudia. The Magic Hat chose their names to win a copy of The Drop Edge of Yonder from all the entries this month. I do a giveaway every month, so remember that you can enter as often as you like. See you in December!
Nov. 3
Hey, all, it's a new month, which means it's time for another book giveaway. Since we just celebrated All Souls Day and Day of the Dead, I've been thinking about the veil between the worlds, which is thinnest at the turning of the seasons. Some believe the veil is always pretty darn thin, and Alafair Tucker is one such person. In my experience, people of her time and place had a much closer relationship with their dead than we do now. It's a relationship I explored in my third Alafair Tucker Mystery, The Drop Edge of Yonder. In the Ozark vernacular, if you are standing on the drop edge of yonder, you are on the brink of death, with one foot in this world and the other over yonder.
I loved the ending of this one. It was inspired by an incident I learned of thirty years before I wrote the book and never forgot, for it showed me just how far a mother was willing to go to save her child.
Drop Edge begins one August evening in 1914, when a bushwhacker ends a pleasant outing by blowing a hole in Shaw Tucker's half-brother, Bill McBride, then kidnapping and ravaging Bill's fiancee, and wounding Shaw and Alafair's daughter Mary. All Mary knows is that the crime had something to do with the Fourth of July.
Or is there more? The answer seems to be working its way through the fog of Mary's shock and grief and floating to the surface of her consciousness. Several malicious acts suggest that Bill's killer is still around and attempting to cover his tracks.
I'll be giving away 2 paper copies of The Drop Edge of Yonder this month. If you would like to enter the drawing, click on "Contact", above, and leave your email address. No one will be able to see it but me. I'll draw the 2 winning entries on Thursday, November 11. Good luck!
You can read an excerpt from The Drop Edge of Yonder by clicking here.
Or, if you just can't wait, here's the Amazon buy-link. Drop Edge is available in hardcover right at Amazon right now for just $5.98, and the audiobook is $7.95 with the discounted Audible membership!